Ghettoblaster
---
Ghettoblaster Birth - Davestyle's House
---
---
Ghettoblaster Repairs - Mikedogg and bmc's Room
---
---
Ghettoblaster Death - Plaistow City Streets
---

Davestyle

The Victim



Mikedogg

The Method

Ghettoblaster
---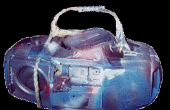 It started when the Play button to my cd player broke. This made this part of my stereo useless so I had to connect it to my disc man after attempts to fix the play button failed. One Friday night when I visited Davestyle, who also had nothing better to do on a Friday night, we decided to fix the stereo's antenna, but got carried away. See photos for construction details.
---
Materials and Tools:
---
Old CD Boombox
Duct Tape
Various glittery stickers
Electrical Tape
Spray Paint (for decorating)
Sharpies (for decorating)
A Sense of Style
Drills
Vaccuum
Crowbar
Muscles
---
If you want you can:
---
Sign the guestbook.
Read what others posted.